robin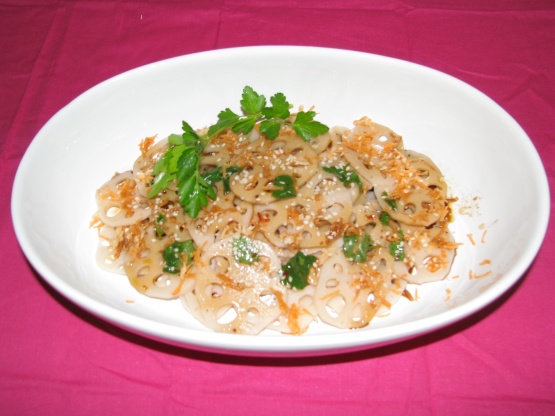 Lotus roots can be found in Oriental markets. They look like vegetable sausages, a few inches long and about three inches in diameter. The flavor is somewhat reminiscent of a water chestnut as is the texture...very fresh and crisp tasting! When sliced they have an intriguing, lacy cross section that comes from air channels in the root. Lotus roots make a nice addition to soups too!

Top Review by robin
Pretty good, but I don't think it's quite my taste. This was my first time tasting Lotus Root, so I didn't quite know what to expect. The root itself has a strong flavor, which overpowered the soy sauce mixture. I think I might like it stir-fried better. I added shredded carrot and a little fresh ginger and used pre-sliced lotus root instead of fresh.
Boil about 3 quarts of water in a pot.
Rinse lotus roots with cold water.
Trim and discard both ends of the bulb and peel the skin.
Diagonally cut the root into 1/8 inch thick slices and immediately put them into acidulated (water with some vinegar or lemon juice to prevent discoloring) water.
Drain the roots and put them into the boiling water.
Take pot off heat and cover pot with lid.
Let sit for 5 minutes.
Drain and rinse with cold water.
Pat dry and put in a shallow bowl.
In a bowl, combine soy sauce, vinegar, sesame oil, chili oil and cilantro.
Pour dressing over lotus roots and garnish with sesame seeds.
Serve chilled.