Fresh Leprechaun Footprint Salad With Eye of Newt Dressing
Rita1652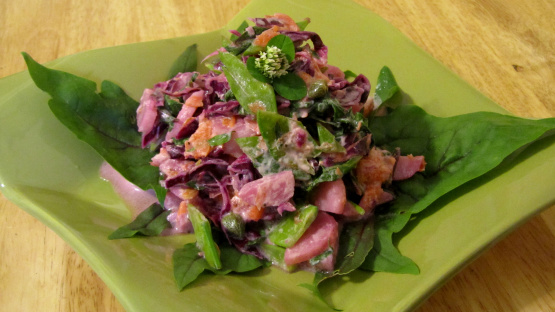 It is a little known fact that clover will spring up where leprechauns walk. The clover plant is often seen as a weed, a wild plant, something you feed to your pet bunny. But clover can also be a highly nutritious food for people as well. It's high in protein, vitamins and minerals. You will want to choose fresh, young tender leaves. Older leaves can be tough. Forest Fairies are known to follow leprechauns around and they often lose an eyelash, or two. Where the eyelash falls lovely little eyelash blossoms appear. Of course most humans call these clover blossoms but we know better. The best flavored blossoms are from the Acadian Fairies and are known by their reddish color. Since Leprechaun footprints are not always available you may use any type of fresh green in this salad but it will lose its magical qualities. Cook time is refrigeration time for dressing.
Gently blend yogurt and orange juice, add spices and refrigerate for one hour.
Toss salad ingredients; serve in salad bowls drizzled with dressing.