Fresh Kielbasa with Sauerkraut
Rita1652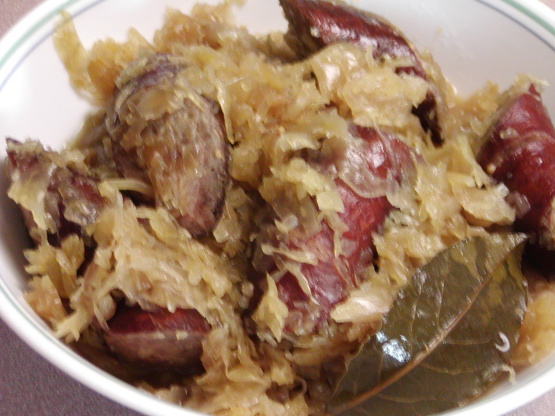 I guess the Polish is coming out in me again! My mom's not so favorite (It's not hers) but I like it!! I've also cooked this slow cooker and stove top. Your choice. And many times cooked for three hours. Makes great left overs! Better the next day!

A very tasty blend of flavors, the ribs pick up a mild flavoring from the sauerkraut that is delicious. I have always used apple and caraway seeds in my sauerkraut, but the carrots were a pleasant discovery adding alot to the flavor to this dish. I always rinse my sauerkraut at least twice before using to prevent it from overpowering the meal. I did that with this dish, and I believe that even those who are not big sauerkraut fans would enjoy this dish.
Brown kielbasa and pork,set aside.
Drain all but 2 tablespoons fat.
Add apple juice, onions, carrots, apple, parsley, bay leaves,garlic salt,caraway seeds, and chicken broth; simmer cover for 20 minutes.
Stir in saurerkrat,wine,sugar,pork ribs and kielbasa that you cut into 1/4 slices.
Bake, covered,1 hour at 350 degrees.
Serve with mashed potatoes and good rye bread& butter.