Fresh Homemade Garden Salsa
Food.com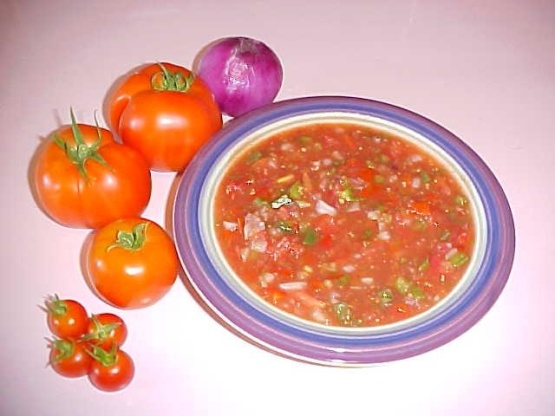 My husband and I love fresh salsa, so we decided to try making our own. We just started by adding ingredients, till it tasted the way we wanted. Since then, we have been growing a SALSA GARDEN in the backyard, so we can enjoy our homemade salsa all summer long!!

Sep 25, 2008 Very good! I was worried about the whole lemon but you did not taste any of the white bitter part of it. Our tomatoes were on the sweet side so our salsa had a sweet/warm taste to it. We'll be making this one again. Made for *Zaar Cookbooks Tag 2008* game. *Update* I made this again today. This time I did not cut the ends of the lemon off up to the inside of the fruit, and I did not chop the lemon up as fine as the first time, both a mistake. So cut the pith off both ends and then grind/chop the rest of the lemon up fine.
Chop up the tomatoes, peppers, tomatillo's cilantro, onions and put in a bowl.
Using a food processor, dice the garlic, lemon and two or three of the jalapeno peppers.
Add this to the chopped vegetables.
Add the rest of the ingredients, and mix well.
This salsa tastes the best after it has some time for the ingredients to marinade.
You can use any type of tomatoes you like, same goes with the peppers, just be sure to taste it as you add the jalepenos, because some of them can be a lot hotter than others.