ImPat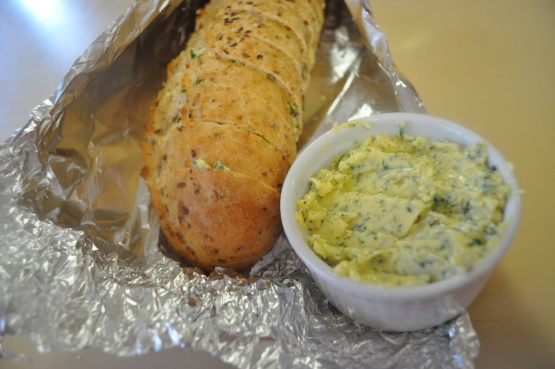 Dress up a grilled steak or piece of fish with this sauce.

Top Review by ImPat
A nice fresh herbed butter mix (I gave it a try in a wholegrain baguette) but think it would be far more suited to being put over a piece of meat whether it be chicken, beef or fish all would meld beautifully I think. Though I used fresh lemon thyme and parsley from the garden I was unable to use fresh garlic (at the moment we have only imported and it is not as good as the Jensens Organic that I use from the jar) and well I did go a little overboard (we love our garlic) and for a double recipe use 5 teaspons of the minced garlic but the fresh lemon thyme and garlic was stil very mush oresent, overall a very nice herb butter thank you Greg In San Diego, made for Bargain Basement Tag Game.
Combine all ingredients in a small mixing bowl.
Top grilled steak or fish with butter.