Fresh Herb and Cheese Sauce
FLKeysJen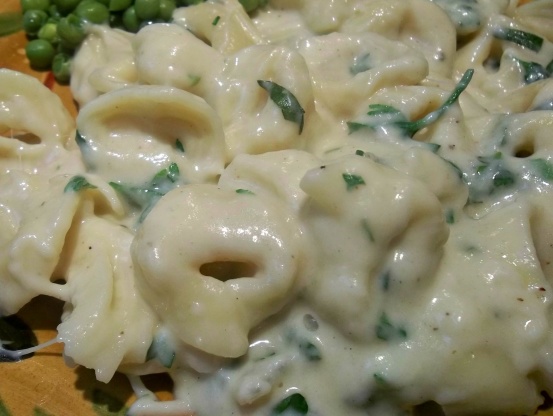 The recipe calls for Chervil, a herb similar to parsley. I didn't have either, so actually used some fresh sage, which was lovely! I prepared this sauce to accompany Potato and Parmesan Gnocchi, by chef#925731. This sauce recipe comes from the "Pasta Cookbook", published by Merehurst Press, original title, "Nudeln". From Zaars Kitchen Dictionary: CHERVIL: The leaves and root of this parsley family herb are edible and have a mild anise flavor. The leaves are a curly and dark green. Chervil is one of the main ingredients in Fines Herbes. Ingredient Season: available year-round How to store: Chervil does not dry well, so it is best when used fresh. How to prepare: Use like parsley, though most flavor is lost when boiled. Matches well with: asparagus, carrots, cheese, chicken, eggs, fish, peas, potatoes, salads, sauces, soups, spinach, tomatoes, veal, venison Substitutions: parsley or tarragon

Very good! My grocery store didn't have chervil so I used parsley and tarragon. The tarragon and sour cream were the dominant flavors in a very gourmet mac and cheese. I agree with others that the egg yolk at the end isn't really necessary. When I see chervil for sale, I'm going to make this again!
If you plan to serve this with pasta, put your pasta on to cook now. This sauce would also complement certain meats, chicken, for instance.
Peel and finely chop onion.
Melt the butter, fry the onion, stir in the flour and fry until golden.
Gradually add the stock, and bring the sauce to the boil, stirring constantly.
Add the wine and sour cream and allow to simmer on low heat.
Season the sauce with salt, pepper and nutmeg.
Add the Mozzarella cheese cubes to the sauce and allow to melt over low heat.
Stir the chopped chervil (or herb of choice) into the sauce.
Beat the egg yolk with 2 tblsps of sauce, then blend into the rest of the sauce.
Add cooked pasta of choice (recipe suggestion, tortellini, although I used the homemade gnocchi mentioned above).