Fresh Ginger-Barbecued Drumsticks
Deantini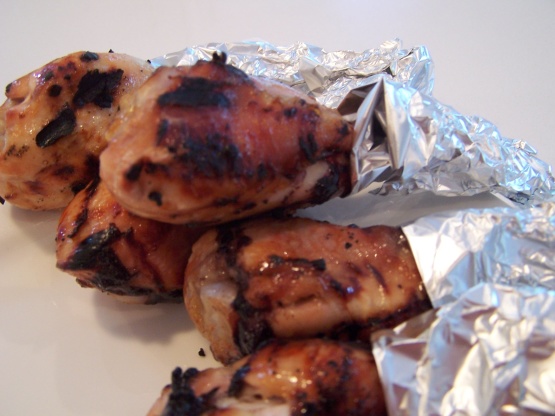 These went over very well with both kids and adults, which is a big plus in my book! I followed the recipe but did leave out the red pepper for the kids. Personally, I think it would have been FAB with the pepper, so if you can add it, do. I love Deantini's idea of putting foil on the drumstick bones to avoid burning. Worked great! Made for Healthy Choices ABC tag.
Preheat broiler or grill.
In a small mixing bowl, combine all ingredients except drumsticks and mix well.
Reserve 1/4 cup sauce in a separate dish.
Coat a broiler rack and pan with cooking spray and add chicken.
Broil 12-15 minutes or until no longer pink in center, turning and basting occasionally with sauce.
Remove from broiler and spoon reserved 1/4 cup sauce evenly over all.