Prep 15 mins
Cook 10 mins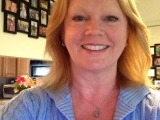 This recipe is from '12 Best Foods Cookbook' by Dana Jacobi. I made it to have with Roasted Salmon out of the same book. This is delicious!
1 small zucchini
1 small yellow squash
4 medium plum tomatoes, seeded and chopped
1 small roasted red pepper
1 poblano pepper, roated, seeded and chopped
1 small red onion, chopped
1 teaspoon oregano, dried
1⁄2 lime, juice of
salt and pepper
Directions
Dice the zuccini and squash into uniform pieces.
Transfer to a bowl and combine with the tomatoes, bell and poblano peppers, and onion.
Mix in the oregano and lime juice.
Season to taste with salt and black pepper.
Let the salso sit 15 minutes before serving to allow flavors to meld.
Most Helpful
YUMMO! Fresh and good! Didn`t wait 15 minutes. Was almost gone soon after serving. Recipe #243689 may help for those that want to roast the peppers Thanks.