Rita1652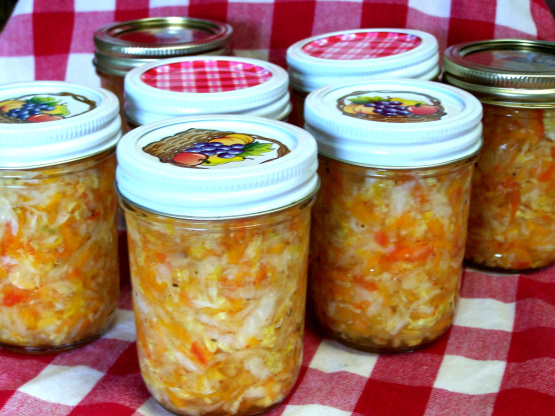 I made this from an abundance of fresh vegetables, using what I had and it turned out yummy!

I haved this as I didnt have enough to make the whole recipe. Looks great and tasted great.I kept a bit out to try lol.I cant wait a month.
Grind the cabbages, carrots, onions and peppers in a food chopper (I grated), then add salt and let stand 2 hours.
Place in a colander and drain.
Wash if mixture is too salty.
Add the vinegar, sugar, celery seed and mustard seed and stir well.
Heat and pour into sterilized jars and seal.
Variation: Instead of carrots, I used grated summer squash, green tomatoes and added 6-8 hot jalapeno peppers.