Fresh Fruit With Vanilla Custard Sauce
Prep 10 mins
Cook 45 mins

This makes a luscious light dessert, a change from all the heavy dishes over the holidays. Looks wonderful in a stemmed glass. Any fresh fruit can be used.
Directions
Scald milk in a large saucepan over medium heat (do not allow milk to boil), set aside.
Combine eggs, egg whites, and sugar in a medium bowl, beat with a wire whisk until blended.
Gradually stir about one-fourth of hot milk into egg mixture; add to remaining hot milk, stirring constantly.
Cook stirring constantly, over low heat until mixture thickens and coats a metal spoon, about 30 minutes.
Immediately pour sauce into a large bowl, stir with a wire whisk until cool.
Stir in vanilla and salt, cover and chill 2 hours.
Serve over fresh fruit.
Most Helpful
Really good - you need to add the hot milk to the egg/sugar mixture very slowly in order to ensure nothing cooks, and the window between "thickened" and "overcooked and slightly grainy" is very short, but the recipe works beautifully.
Fabulous! I just love custards and this one, with a yummy vanilla flavor, was perfect over the fresh fruit. Notes: 1. The scalding of the milk took approx. 7-8 min. - and 2.Step 4 cooking took about 20 minutes for me. You really do have to stir the whole time so the custard doesn't lump. It's WELL WORTH it though. Thanks Derf. :-)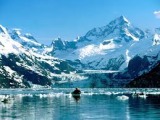 Recently made this as a light dessert and enjoyed it immensely. I am opting to to assign stars because there was some chefs error involved in the preparation that make have contributed to the final results. I made mine with skim milk and Splenda instead of sugar. Add the sweetner after the custard was cooked. My one problem was that I think I may have over whisked the milk prior to adding the egg which gave me a somewhat lumpy result that was more custard than custard sauce. Though it did not look very pretty, the taste was great and I will certainly make it agian. When I do, I may leave out the egg white to allow the sauce to stay quite loose. Thanks Derf!