Fresh Fruit With Strawberry Cream Cheese Dressing
lazyme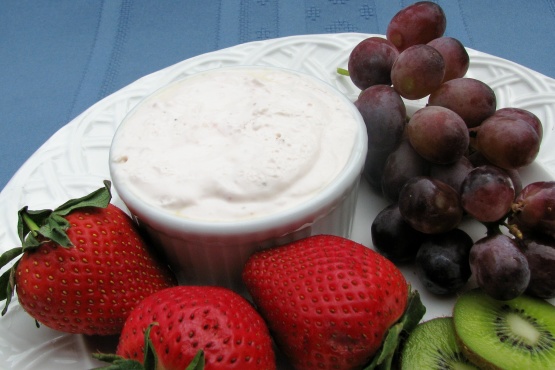 Serve as a fruit salad or dip. Prep time includes prepping fruit slices.
I love that the markets have so many frozen types of fruits, these kinds of recipes.It gets so hot where I live, and it's so refreshing to be able to have this and other recipes like this one year round. I served this with strawberries, apples, kiwis, and fresh peaches. I had about half of an angel food cake in the freezer, so I served that as well. Thanks for sharing Gail! This is so easy to whip up, and I will make this for sure all summer! Made for a forum event at KK's site!
Place all ingredients in a food processor fitted with the steel blade.
Process until smooth and creamy.
Arrange sliced fruit on salad plate and top with dressing.
Variation:.
Substitute 1 - 10 oz. pkg. frozen sweetened strawberries that have been thawed and well drained for fresh strawberries. Decrease sugar, if desired.