Fresh Fruit With Lemon Verbena Simple Syrup
COOKGIRl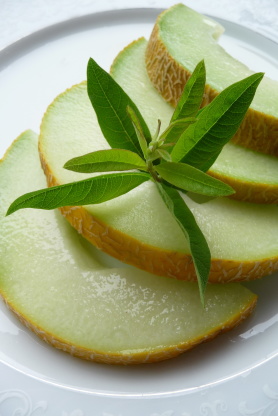 Adapted from papawow.com. Use a colorful variety of seasonal fresh fruit of your choice: peaches, other types of berries or melons, red seedless grapes, etc. I reduced the amount of sugar from the original 2-1 ratio but please feel free to add more. Lemon verbena is a favorite herb of mine! Recently I made this using galia melon only (see photo).
Simple syrup

2

cups water
1⁄4 cup sugar (I used unbleached white sugar)

2

tablespoons fresh lemon verbena, washed and minced

Salad

1

cup strawberry, cleaned, hulled and sliced

2

cups cantaloupe, peeled and cut into bite size chunks

1

orange, peeled and sliced

1 -2

cup yellow grapefruit, peeled and sliced

1 -2

cup red seedless watermelon, rind removed and cut into bite size chunks

Garnish

fresh lemon verbena leaf
Simple syrup: combine the water and sugar in a small pan and bring to the boil.
Boil mixture until it is reduced by half.
Stir in the lemon verbena leaves. Set aside to allow verbena leaves to infuse and the mixture to cool completely.
Salad: Prep the fruit and arrange on a large shallow platter.
Once the simple syrup is cool, use a fine mesh strainer and drizzle the syrup all over the fruit.
*Garnish fruit with a few fresh lemon verbena leaves. Or cover and chill until ready to serve.
*Tip: fresh lemon verbena leaves wilt quickly. Garnish the fruit platter with freshly cut lemon verbena leaves [just] before serving.
Yield is estimated.