Derf2440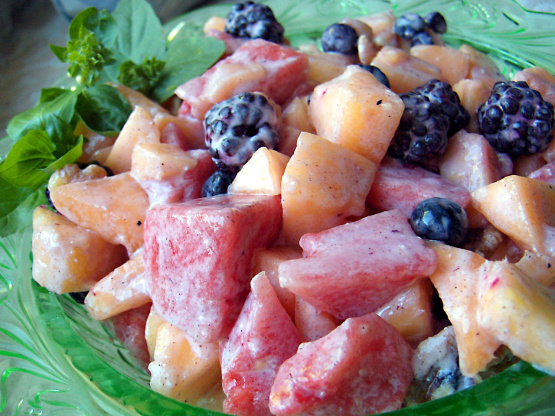 All the wonderful fresh fruit of summer, whatever is in season, makes refreshing fruit salads. I use whatever is going locally the day I make it, berries, peaches, apricots, pineapple, melons etc., mmmm lushious!!

Awesome, This would be great for a ot luck if kept cold until it was served. It would not last long enough to get warm once set out. I will defininitely try your other tonight for dessert. This afternoon I didn't have to adjust serving numbers since every brought something. The kids loved it.My blackberries have been gone for about 3 weeks, so I used extra blueberries and some strawberries... There were no black berries at the grocery store either. The only other thing I admitted was the salt. I like salt but am on a sodium reduced diet. None the less it turned our great. Thanks for the recipe. I've already had requests for it. It's great because being on zarr I can just print this page off, so they know who the author is and can sign in and look for more. Leanne
In a small bowl whisk together nonfat yogurt, splenda, cardamom and salt, set aside.
Combine the rest of the ingredients in a large bowl, carefully mix. (fresh basil leaves, roughly chopped, may be added if using).
Pour nonfat yogurt mix over the fruit and carefully stir to coat.
Alternately, the nonfat yogurt mix can be served on the side, or as a topping on each serving.
Ganish with fresh basil leaves.