Derf2440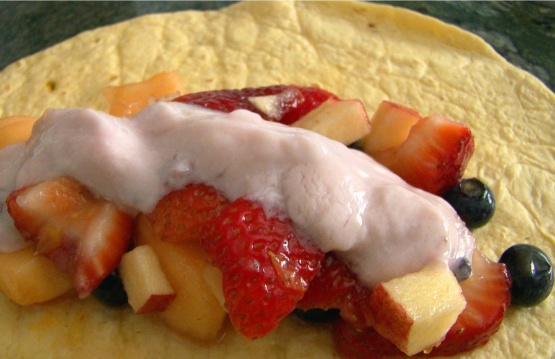 My mom is a fruit and yogurt lover. I make these for her when she comes to visit. This recipe makes a lot and I eat the fruit by itself sometimes. It makes a nice light, refresing lunch or snack. From Doe's Pita Place, Charleston, South Carolina.

mmm a lovely mix of fruit , had to leave out the grapes, the only thing i didn't have in to make it. I did cut the brown sugar to 2 teaspoons and made it into a wrap instead of a pita. I will definately use a pita next time, a wrap is quite messy to eat :) ! thanks for posting, i will make it again.
In a large mixing bowl, add the first 7 ingredients; stir to combine.
Using a slotted spoon, transfer 1/2 cup fruit mixture into each pita half.
Evenly divided yogurt and spoon over fruit mixture inside the pita.
Sprinkle evenly with brown sugar.