loof751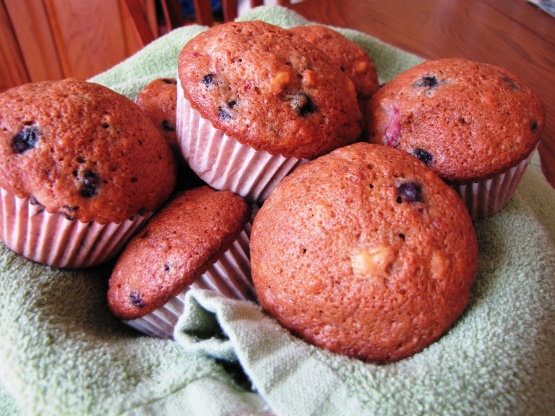 These are really good and make a great snack. My mom gave me this recipe to try and we agree it 's a keeper. You could substitute different fruit if you'd like with these. This is a double recipe that I use. I didn't use the walnuts when I made this.
Mix the strawberries and 4T. sugar together. Let them sit for about 15 minutes until they have juices.
In a medium bowl, mix the flour, cinnamon, baking soda, nutmeg, and salt.
In a large bowl, mix the bananas, eggs, oil, 2c. sugar, strawberries, and lemon zest.
Mix the dry ingredients into the wet ones until they are combined, but don't over mix. Fold in the blueberries and walnuts.
Fill muffin liners 3/4 full. Bake at 350 degrees for 30 minutes.