jswinks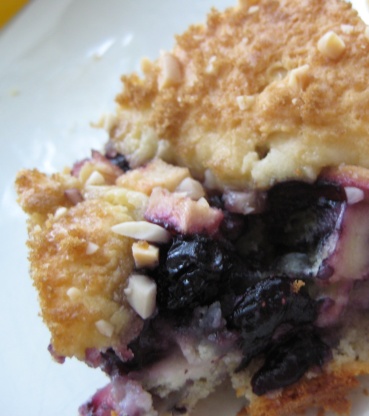 This is a coffee cake you can make with just about any fresh fruit that sounds good. I have had it made with Raspberry/Strawberry and recently made it Christmas morning as a Blueberry/Pear Coffee Cake. I would recommend using fresh fruit and not cheating by using the canned variety. It's a recipe by Lou Seibert Pappas from the book Coffee Cakes, Simple Sweet and Savory.
Preheat oven to 350F.
Butter and Flour a 9x13 baking pan.
In a large bowl, combine first three ingredients (cream cheese, Butter, granulated sugar) and beat with a wooden spoon or electric mixer until light and fluffy.
Stir in the milk, eggs, and vanilla.
In a medium bowl combine the flour, baking powder, baking soda and salt. Stir to blend.
Add to the cheese mixture and beat until smooth.
Spread 1/2 of the batter in the prepared pan. Scatter fruit evenly over the batter. Dot the remaining batter over the fruit.
Mix brown sugar and nuts together, sprinkle evenly over batter.
Bake for 40 minutes or until the cake is golden brown and a tester comes out clean.
Let cool or serve warm. Yummy either way.