awalde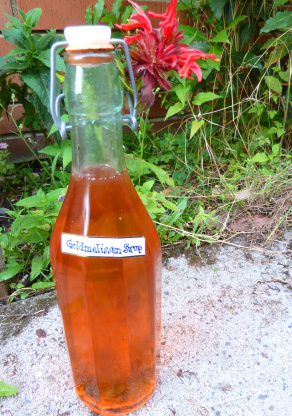 This is a traditional family recipe that I would like to keep as this syrup is really delicious and fresh. Usually I use bee balm flowers. This latin name of this herb is Monarda didyma. Other names: bergamot herb, scarlet beebalm, scarlet monarda, Oswego tea, or crimson beebalm. The same recipe is also applicable for flowers such as elder, honeysuckles, hibiskus, scented geraniums, violets, rose petals, pansies, citrus, lavender, basil. You can prepare this with different herbs too such as mint, sage, rosemary and much more.
1

cup fresh edible flowers or 1 cup herbs

2

liters boiling water or 2 quarts boiling water

0.13

lb citric acid or 2 ounces citric acid

2

to 3 lemons, juice of
Join all ingredients in a large pot.
Mix well until sugar and citric acid are dissolved.
Let sit 2 days.
Sieve and bring to boil.
Fill the hot syrup in bottles (be careful while working with hot syrup).
Serve with cold water or mineral water.
Ideas: Use this syrup on plain yogurt, on ice cream, with sparkling wine, and many other ways.