KGCOOK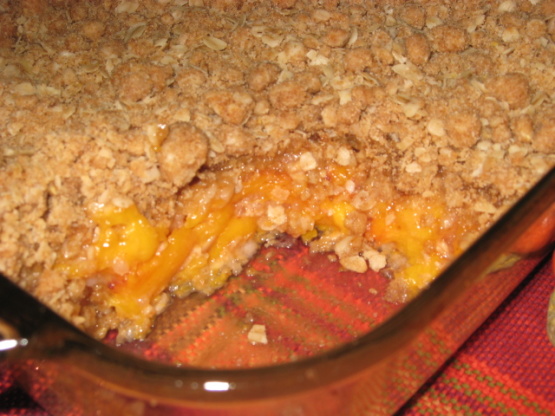 I have this recipe of apple crisp and I like it. I have this recipe for apple pie and I like it. I have this recipe for frozen peaches too...I like it too. So how can I get some of all of these in this recipe? Well I did. Hubby says he wants this for dinner and it has to take the place of all of my apple and peach crisp recipes. I hope you will like this every bit as much as we do! I used a package of Vivian's Frozen Peaches (or follow directions but do not freeze)
Spray a 9 X 9 inch baking dish.
Drain peaches and reserve 1/2 cup juice.
Freeze left over juice for another use if desired.
Mix peaches with 1/2 cup reserved juice, tapioca and 1/4 cup oats.
Pour into the baking dish and let set for at least 15 minutes.
In the mean time mix the remaining ingredients,.
sprinkle evenly over the top of the peaches, if the 15 minutes are up.
Bake at 350 degrees for 30 minutes.
Cool on wire rack.
Adjust seasonings to taste. I like more nutmeg.