Fresh Cream of Tomato Soup
lazyme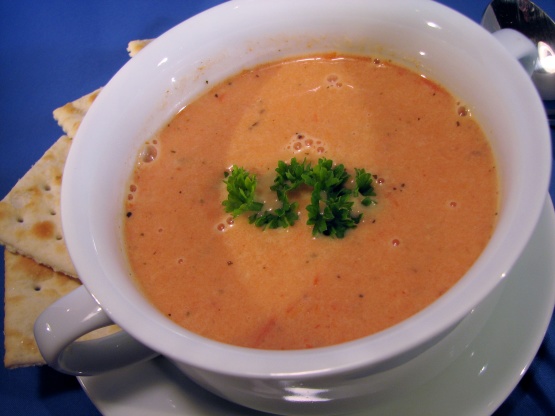 Another Weight Watchers recipe. A little different from the other cream of tomato soup that I posted.

Not to my taste, sorrry - nice enough flavours but too many chunky 'bits' in it even after pureeing, and my 10-month old had a hard time eating it, even with bread soaking in it.
Heat the oil in a large nonstick saucepan over medium heat. Add the onions and cook, stirring occasionally, until softened, about 5 minutes.
Stir in the tomatoes, broth, garlic, thyme, and basil(if using dried). Simmer, covered, until the vegetables are tender, about 5 minutes. Cool slightly; transfer to a blender and puree.
Return the mixture to the saucepan. Whisk the milk and tomato paste in a small bowl; stir into the soup. Add the basil, salt and pepper; cook, stirring occasionally, until just heated through(do not boil).