Fresh Cream of Mushroom Soup
Swirling F.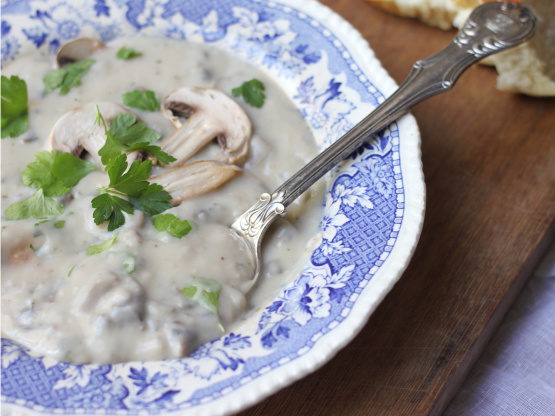 This quick and easy recipe is so much better than the canned stuff. Great as a first course, or with salad or sandwiches. Of course, you can use it in your favorite recipes, too. To make it thicker, use less stock and/or use heavy cream instead of the half-and-half cream or milk.

This recipe is good but it really needs more mushrooms! I have made it twice now. The first time I made it exactly as written and the flavor bland and mushrooms were more of a garnish than the star. Second time I added a dash of nutmeg, sea salt, cracked pepper, thyme and garlic powder. Then I upped mushies from 8 oz. to approx. 30 oz. of mixed shitaki, white, king trumpet and beech. Second time was AMAZING. I made this for the family and they ate the whole pot :)
Lighly saute mushrooms in butter.
Add flour and stir constantly for about 5 minutes.
Slowly add stock, stirring until all is incorporated.
Simmer about 10 minutes.
Add cream, stir and serve.