Derf2440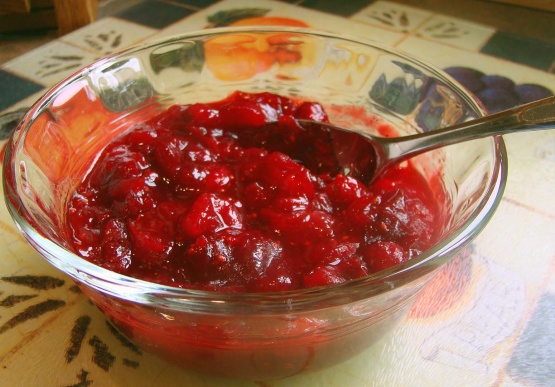 So much better than canned! You can adjust the amount of sugar (up to 1 cup) according to your preference. My mother and grandmother made this the same way for as long as I can remember.

I have almost always made my cranberry sauce this way, but this is the only recipe I could find on Food.com that matched what I usually do. This year, I made it with orange/mango juice rather than water as the base and added cinnamon, nutmeg, a tiny bit of cloves and some cardamom as it was almost done cooking. I also let it cook quite a while to reduce the sauce without having to add cornstarch. Thanks for posting!
1

(12 ounce) bag cranberries (I prefer Ocean Spray)

1

cup water
2⁄3-3⁄4 cup sugar (depending on tartness desired)
Bring water and sugar to a boil in a 2 quart saucepan.
Rinse berries and add to gently boiling water.
Bring back to a boil and simmer gently about 10 minutes until most of the berries have popped.
Cool slightly in pan and then pour into an attractive bowl for serving.
Refrigerate several hours before serving.