These are a holiday favorite at our house. Moist cake-like cookies with lots finely chopped fresh cranberries. The Lemon Glaze is a must and really compliments these cookies.
Directions
In a food processor or blender pulse cranberries until medium-fine. Set aside.
Cream sugar and butter.
Add all the rest of the ingredients except cranberries; mix well.
Gently mix in cranberries.
Drop by spoonfuls on greased cookie sheet.
Bake at 375* for 8 to 10 minutes or until rim of cookie is lightly browned. Don't overbake or they will be dry and hard. :-).
Brush on the glaze while still warm.
*GLAZE*.
Combine powdered sugar and lemon juice till smooth. Should be very thin like gravy. Add more or less sugar for right consistency.
Reviews
Most Helpful
These cookies are delicious and are a "must try" for cranberry lovers. They are moist and full of wonderful flavors, and the glaze really adds that extra touch. Just remember to glaze the cookies while they are still warm, as the recipe directs; I forgot to glaze the first pan right away and found out that they glaze much more nicely if you remember to brush it on while they are still warm. I glazed the rest of the cookies as soon as I transferred them from the baking pans to cooling racks. I made per recipe and don't think anything at all needs to be added or changed, but next time I think I'll add some chopped walnuts--I just think they'd be a great addition here. Everyone who tasted these cookies loved them. Thanks so much for sharing the recipe!

Great recipe! There are two ways to think of these cookies: As festive holiday cookies, or as healthy year-round oatmeal cookies. Ingredient proportions are correct, lemon glaze adds "zing." Highly recommended.
These were a very tasty little cookie, but they weren't quite as successful for me as they were for everyone else, and I'm not sure why. I followed this recipe exactly as posted, using fresh cranberries. The dough seemed to me a little too soft and it was. The cookies spread out very thin when baked and were too soft to remove from the baking sheet. A lot of them broke in half when I attempted to do so, and I really had to let them cool before trying. The glaze actually added to the softness, so I ended up with a tinful of delicious, but crumbled, cookies. I do want to try this again and see if I have better luck. Thanks for shairng.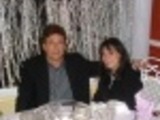 Holiday Central >