Fresh Corn With Lime and Cilantro
Parsley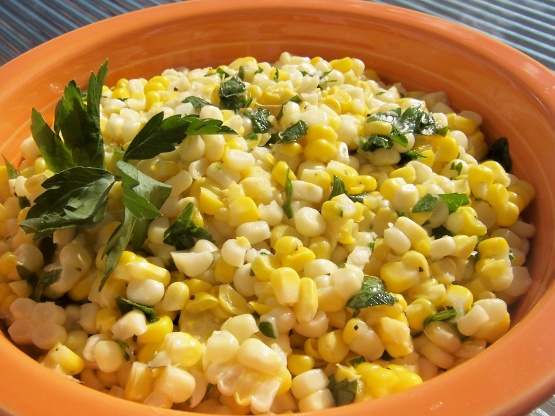 This recipe is all about fresh taste! The sweetness of freshly picked corn is balanced with the zing of lime and cilantro. It's one of our family favorites. You'll also enjoy the easy technique for cooking fresh corn in the microwave.

Excellent! Fast, easy, delicious! First time I ever used the microwave to cook corn and was pleased with the result. Sweet, crisp corn paired with tart lime and exotic cilantro. Took the dish to a potluck and it was devoured.
Microwave method for cooking corn: husk corn and wash off any loose silk. Place wet corn into Ziploc bag. Place bag in microwave and cook 4 minutes; rotate ears and cook 2 more minutes. Let sit 2 minutes to finish cooking. Cool five minutes and then slice kernels off the cob.
Combine corn kernels, lime juice, lime zest, butter, salt and pepper. **Can be made ahead up to this point.
Just before serving, add cilantro and toss to combine. If desired, garnish with lime slices and sprig of cilantro.