vicki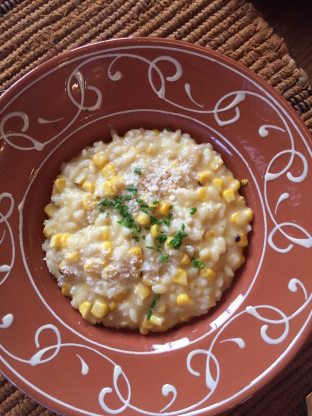 I've never made this with anything but fresh corn, so wouldn't recommend substituting. But this is my favourite vegetable risotto, and second favourite way to enjoy fresh corn (first being right off the cob).

Top Review by vicki
This is a wonderful way to use fresh corn. Such a simple recipe with very satisfying results. We put a bit of olive oil on the ears of corn and gave them a little char on the bbq before taking corn off the cob. Garnished with chopped chives and also thought chopped fresh basil would be a nice garnish. Will make again and again!
Reserve 1/2 the quantity of kernels (about 1 and 1/2 cups), and puree the rest in a blender with some of the stock/broth.
Strain through a sieve and add this strained liquid to the rest of the stock in a saucepan.
Taste for seasoning (salt).
Heat to boiling point when ready to prepare risotto (and have the hot water available, just in case).
In another pot (the one you will use for risotto), saute the onion and garlic in 2 tbs butter, until onion is translucent.
Add the rice, and coat well, cooking another minute or so.
Add reserved corn kernels.
Add the hot broth to the rice/corn mix, one or two ladles at a time, stirring very frequently.
Add more broth as it is absorbed by the rice.
Continue this way for about 20 minutes, or until rice is cooked but"al dente", in a creamy base of"sauce".
*ORsee optional method of cooking, below.
If rice isn't done after using all the corn stock, continue to cook using hot water, 1/2 cup at a time.
When rice is done to taste, add the remaining butter, cheese or cream, and taste again for salt and pepper.
Serve at once.
*Optional"cheater's"method of cooking risotto: Add 1/2 the hot stock to rice (and hold back the kernels); stir only occasionally.
When stock is absorbed, add kernels and rest of stock, stirring enough to avoid rice sticking to bottom.
Continue as above.
For vegetarians use vegetable stock.