flower7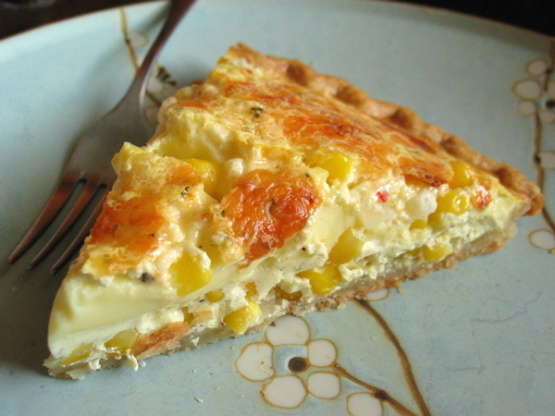 I love fresh corn, cornbread, creamed corn casseroles and corn chowder..so how excited could I be about a corn quiche! Yum! I serve this as a side dish with pork chops or ham. I usually leave the sugar out if corn is sweet.

Yummy! I messed up a little because I used frozen corn and forgot to thaw it - realized it as I was dumping it in (Oops! Too late to turn back!) So I added 15 minutes to the bake time, covering the crust with foil after 50 minutes so it wouldn't burn (10 minutes more might have been enough though). The corn ended up kinda chewy so thawing beforehand is probably better. I left out the sugar and added a little black pepper and used fat free half-and-half. Also, because I had some pepper jack cheese to use up (about 1/2 cup), I sprinkled it over the top before baking (I don't think it's necessary though - would have been fine without). Thanks for the recipe! - April 2, 2008 Update: I guess yesterday just wasn't my day for cooking - I woke this morning to find the butter I'd melted for the filling was still sitting in the microwave. Doh! I'm very glad the final quiche came out fine anyway! :)
Preheat oven to 375 degrees F.
Combine eggs, onion, flour, sugar and salt in processor; blend until onion is finely chopped.
Add half and half and butter; process just until blended. Transfer to large bowl.
Mix in corn. Pour into crust.
Bake until filling is slightly puffed and top is golden, about 50 minutes.
Transfer to rack; cool slightly. Serve warm.