~Val~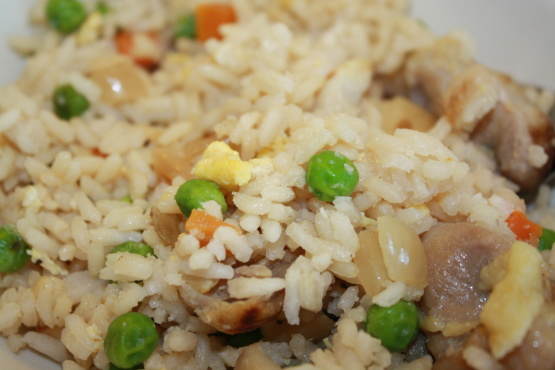 I never have day old white rice in my fridge unless we had ordered Chinese the night before. So I had to come up with something for fresh rice. This comes out nicely with out the sticky rice I have got with other recipes when using attempting to fry fresh cooked rice. You can add cooked chicken or pork and make it a one-dish meal.
Bring water, soy sauce, and ground ginger to a boil. (Go easy on the ginger!).
Throw in rice. Return to boil, reduce to medium heat and cover for 15 minutes. Don't over cook -- you will end up with rice mush if you do.
Uncover and let cool for 15 minutes occasionally fluffing with a fork.
Mean while in oil saute your onions, peas & carrots until the carrots a heated thoroughly. Gently toss into the rice.
Fry up your eggs scrambled style. Gently toss into rice mixture.