Fresh Carrot Cauliflower Pie
Pam-I-Am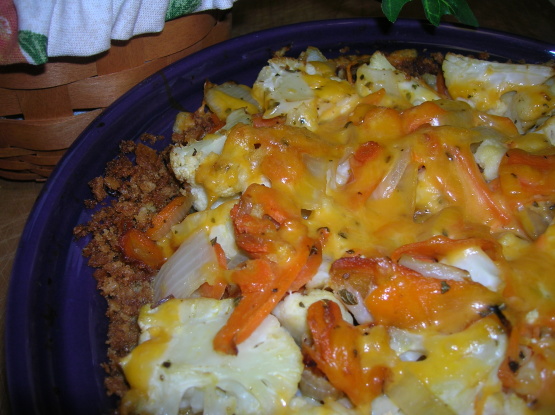 This recipe resembles a quiche, but uses fresh vegetables as the main ingredients. It's so delicious, you will probably get requests for it often. I certainly do!

This recipe is delicious. There is some work involved, but the end result is well worth it. I took it to a brunch, and it was gone within a short time, and everyone was asking for the recipe. I also served it with soup one night for a satisfying dinner meal.
Preheat oven to 375 degrees F.
Prepare the Savory Pie Crust by mixing croutons and melted butter in a 9" pie shell pan.
Bake for 8 minutes or until golden brown@ 375.
Remove from oven and set aside.
In a large skillet, melt butter.
Saute onion and garlic for 3 minutes until golden.
Add cauliflower, carrots, oregano, salt and pepper.
Cover and cook for 10 minutes, stirring occasionally.
Sprinkle 3/4 cup of cheese into prepared pie crust; add veggie mix.
Top with remaining cheese.
In a small bowl, beat eggs and milk; pour over ingredients in pie shell.
Bake in a 375 degree F oven for 30-40 minutes, until set.