IngridH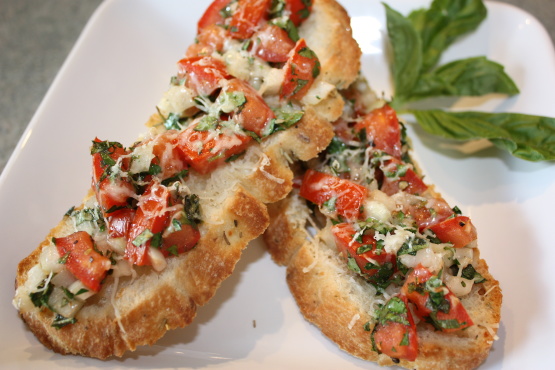 This is a simple bruschetta I learned to make at a cooking class.

This was pretty good. I added some salt and sugar to the tomato/onion/herb mixture, but thought it just needed a touch of something else, as my tomatoes were just grocery store variety, not garden fresh and sun ripened. I drizzled a tiny bit of balsamic vinegar over my slice (just a few drops) and that really brought the flavors out for me. I'd definitely make again when my backyard tomatoes ripen. Made for ZWT7- Emerald City Shakers
Preheat oven to 400°F.
Slice bread and place pieces on a parchment paper-lined baking sheet. Use a clean cloth to brush bread with olive oil. Place in oven for about 4-8 minutes or until tops are slightly crispy. Take out and flip.
In a medium bowl, combine tomatoes, onions, olive oil, oregano, basil, and parsley.
Spoon the tomato mixture on each slice of bread, sprinkle with Parmesan cheese.
Bake in oven for 8-10 minutes or until bottom of bread is browned.
Allow to cool for 5 minutes before serving.