Ashley Cuoco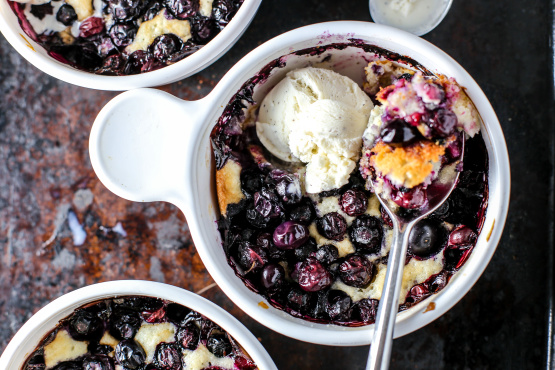 Easy and too good for words.

Delicious! I picked up some fresh blueberries on my last trip to the grocery store and didn't want to just store them up until I made pancakes. This is a really good cobbler recipe. Very easy to make and the cake doesn't stick to the pan after baking. The first time I tasted it I served it hot with vanilla ice cream. I really didn't think anything special about it and was going to rate it low. I gave it another taste this time without the icecream and oh my! Very very tasty and so many blueberries!!! So why I didn't give 5 stars? I wish the cake in the bottom was softer, i think it's too hard in contrast to the blueberry texture. Still a jummy desert, just ditch the ice cream!!! UPDATE: This has become my family's favorite quick desert! It's so easy to put together on game night! I have made a few adjustments which has made it just right. I increased milk by 1/4 cup and use evaporated milk when in hand. I add the vanilla straight in the batter, add a tsp of grated nutmeg and drizzle with a powdered sugar and water glaze after baking just to give it a special touch. I usually make it with frozen mixed berries and it's absolutely delicious! THANK YOU!
Add flour, 1/2 cup sugar, salt, and baking powder to a mixing bowl; stir to combine.
Add in milk and butter; stir to combine.
Spread batter into a greased 8-inch square baking pan.
Sprinkle blueberries evenly over batter.
Sprinkle with 1/3 cup sugar and drizzle with vanilla.
Bake at 350° for 40-45 minutes or until a pick comes out clean.
Can serve plain or with ice cream on top.