NURSNMOM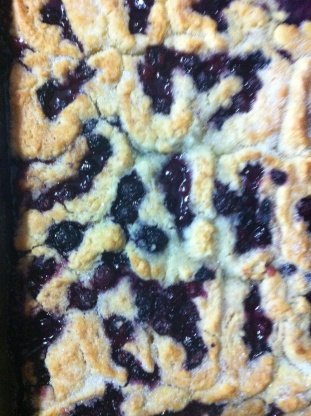 My mom found this recipe years ago on a bag of flour. It is our go to for any fruit cobbler. It's supper easy and always turns out great! You'll won't regret making this. So easy even a first timer can make it turn out great
Preheat over to 350. Melt butter into a 9X13 pan.
Boil water and sugar together in a pot to make a simple syrup.
To make dough take flour and cut in shortening. Once well mixed add in milk using the least amount at first. Flour surface and roll dough (or flatten with hands) until about 1/4 inch thick and rectangular shaped. Place your fruit in the center and roll the dough around like a jelly roll. Once you have your roll cut small 1/4 thick slices off- they will look like pinwheels. Place each pinwheel in the pan where the fruit is in the center and the dough covers all sides. Sprinkle with a small amount of sugar or brown sugar (even brown sugar and cinnamon if using apples) then pour simple syrup mixture over the top.
Bake at 350 for 40-45 mins and enjoy. Goes great warm with a scoop of vanilla ice cream.