Fresh BBQ Corn With Honey Butter
lets.eat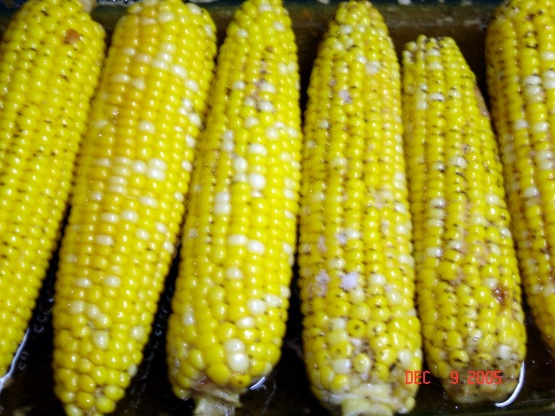 From Chef Shelley Sikora at the Bobby Q restaurant in Phoenix, Arizona.

I did not prepare this as stated..We personally don't care for browned/grilled corn, we like it plump and juicy. But the flavor this way was great. I used fresh corn on the cob placed them in a glass 13x9 pan, melted the honey/butter than poured it over the corn. Sprinkled them with the salt/garlic/ and pepper. Covered tightly w/foil and baked 350' for 40 minutes. Fantastic flavor(even though I cheated) Thank You Southern Polar Bear-
Mix salt, pepper, and garlic powder together.
Let stand for one hour before use.
This may be stored in a plastic container for future use.
Whip all but 2 tablespoons butter with honey.
Using wax paper, roll honey butter into shape of sausage and refrigerate overnight (or put in freezer for 1 hour).
Brush frozen corn with 2 tablespoons room-temperature butter.
Sprinkle with a dash of the seasoning mix.
Place corn on the grill.
Turn often until brown on every side.
Cut corn from cobs.
Place in a bowl and cover until ready to serve.
Cut refrigerated honey butter into 1/2" thickness slices and serve over hot corn kernels.