Paula M.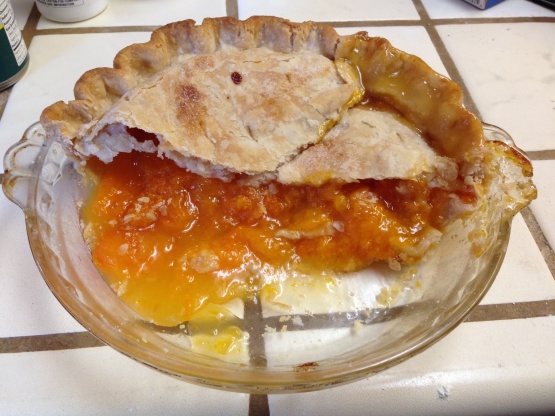 We used to have an apricot tree, and I was fortunate enough to find this four ingredient, delicious recipe that uses a large number of apricots at a time.

Oh.My.Goodness! This is a FABULOUS pie. Simple and delicious. No-muss, no-fuss that allows the fresh fruit flavor to shine. We used our homegrown apricots and it came out wonderfully sweet-tart. I subbed flour for the cornstarch and I dotted the top of the fruit with a tablespoon of cut-up cold butter. The recipe doesn't specify, but assumed this is a 2-crust pie. I just used storebought crusts and I spinkled the top crust with a little sugar before baking. I used 6 cups of diced fruit (skins on!) because I made a deep dish pie. Mine was done after about 40 minutes - any longer and it would have burned. I want to definately make this again - and I WILL because I still have almost 10 pounds of apricots to use up! Thanks Recipe Junkie!
Combine ingredients.
Pour into 9" pie rich pastry dough crust.
Bake at 350 for one hour.