3 Reviews
the batter is very dense and I recommend toasting the pecans. The bread is wonderful.
Great quick bread! I used jonagold apples and i was wonderful! HIghly recommended!
I am new to cooking/baking. This recipe was super easy and turns out so yummy with raisins. Very moist. I added brown sugar to the top of the bread the last 15 minutes it was in the oven.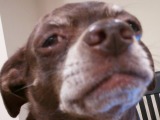 Fresh Apple Spice Bread