Fresh Apple Cake With Rum Sauce
Annacia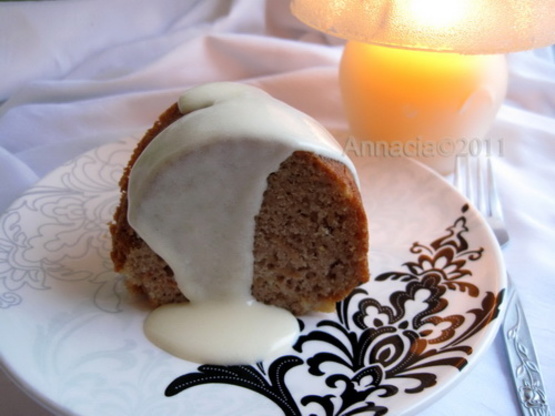 Yum! Hate to admit it, but I really like this for breakfast. :)

Oh my gosh, this cake is wonderful! I made it for my sons' birthday today. A while back he said to me "Ya know mom, bakery cakes are pretty but they just don't have any taste. For my birthday I really like one of your everyday cakes that taste so much better". When I saw this recipe I knew that it was the one and I could not done better. There were just the 3 of us and we each made that mmmmmmmm sound with the first bite. With Breezers' advice I made it the day before and when cut it it proved to be very moist and dense as you would expect from a cake with this much fresh apple. Dense however, need not equate to heavy and this didn't. It has a full rich apple spice that is marvelous alone but the butter rum sauce puts it over the moon flavor. I did lessen the sweetness of the recipe by using 1 cup of Splenda with 1/3 cup sugar and that worked beautifully for us and because it was a birthday I used a bundt in place of the sheet pan it was baked with convection @300 degrees for 50 mins and was perfect. Thank you Breezer for a cake that I know will be requested many times over. Made for Photo Tag.
Cake:.
Cream the butter; gradually add the sugar, beating well at medium speed of an electric mixer. Add eggs, one at a time, beating well after each addition.
Combine flour and the next 5 ingredients; add to the creamed mixture, beating until blended. Stir in the apple and pecans.
Pour batter into a greased and floured 13 x 9 x 2 inch baking pan. Bake at 325 degrees for 50 to 55 minutes or until a wooden pick inserted in the center comes out clean. Let cool completely in the pan on a wire rack. Serve with Hot Buttered Rum Sauce.
Hot Buttered Rum Sauce:.
Combine the sugar, butter, and half and half in a saucepan; cook over low heat, stirring occasionally, until sugar dissolves. Remove from heat, and stir in the rum extract.