Fresh and Light Garbanzo Salad
Carianne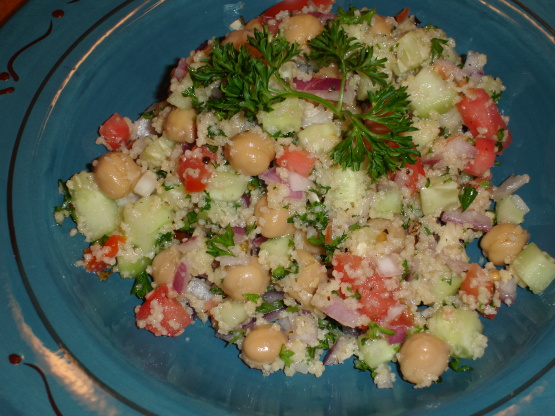 Great for light lunch or to bring to potluck for a low-fat alternative (easily doubles). 2 WW points, from the Secrets of Fat Free Cooking cookbook. Also, olive oil can be omitted to lower fat even more.
I didn't have all the ingredients for this salad, but LOVED what I did have and could use. I really like the Vinegar dressing and my husband liked it too and he's not a big fan of vinegars. Thanks for the recipe, I'm definitely keeping this to have again!
Bring water to boil, stir in couscous, cover, and remove from heat.
Let stand 5 minutes (or until water is absorbed).
In large bowl, toss couscous, garbanzo beans, tomato, cucumber, onion, and parsley.
Combine dressing ingredients and pour over salad.
Toss well.
Cover and chill before serving.