Frenched Pork Chops in Apple
bggio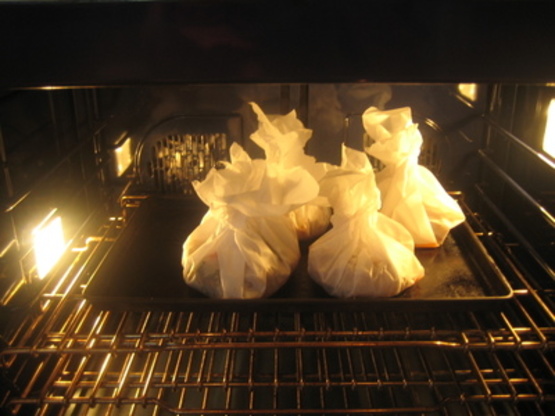 This is a great dinner idea as it is so easy to prepare and the flavors are simple yet very delicately balanced. The pork becomes very tender and the apple becomes like a sauce. great with rice or couscous

What to make when you are short of time or just want to be lazy? This recipe was perfect for those occasions. I cut the recipe down to 2 servings and used Niman's bacon wrapped pork chops along with apples from my yard. Since I wanted to add a bit more color when opening these wonderfully aromatic packages, I also sauteed onion along with some garlic and sprinkled port instead of white wine. Then I put the packages away in the refrigerator until my husband returned from work. In just 30 minutes in the oven and with some wonderful smell permeating through my kitchen, dinner was served along with shredded cabbage salad with our own wild caught smoked salmon. How simple is that and so satisfyingly tasty to boot. This made very, very juicy pork chops full of flavor perfect for Autumn. Thank you chef for posting this yummy recipe.
Preheat oven at 425°.
Salt and pepper to taste the pork chops.
Add 2 tablespoon olive oil in stainless steel pan heat the oil on high heat.
Add the pork chop to oil and brown on each side 3 minutes.
In a bowl mix completely sliced onion, the rest of the olive oil, and the rest of salt and pepper with the fresh thyme.
Bring onion mixture to the parchment paper and make first layer. Add an even portion of apple on top then bring pork chop as the top layer.
Raise up the ends of the parchment paper and twist top tight like the ends of candy wrapper (splash of white wine in each if wanted).
Place in oven for 20-30 minutes dependent on cut of pork.