Zurie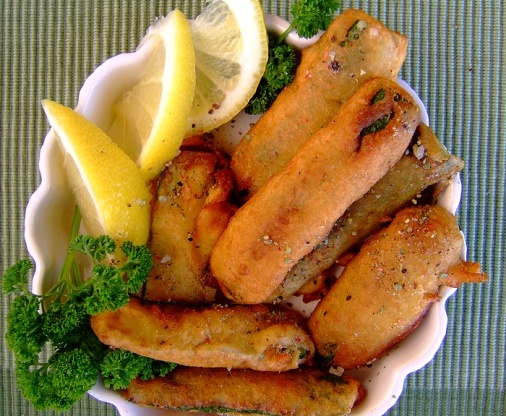 Super fast appetizer or garnish. This is Michelin chef George Boyer's recipe. It can be served at aperitif time or as garnish for fish or grilled meat. Elegant and super easy.

Top Review by Zurie
Very hard review to write! We liked it. And I have a suspicion that this chef Boyer -- like most chefs -- might have left something out of the recipe. The good news is, please DO try this recipe. The potato flour (if that was the secret) helps make a marvellous stick-to-it batter, and maybe it's my imagination, but the oil was cleaner and there were far fewer loose bits in the oil than with the usual batter. Also, the batter seemed to absorb VERY little oil. On the negative side, I thought that, as zucchini is a bland veggie, there should have been some seasoning in the batter, and the batter could have been lighter (but that's a personal opinion and maybe I'm wrong there). The batter was crispy straight from the oil and drained on paper, but could not stay crisp for a short while in a warming oven. (Sorry, could not serve immediately). Next time I will season the batter and add a whipped egg white to it. I had to use more than coarse salt to make it tastier -- I used a mix made of sea salt, fine coriander, fine dried lime leaves and hot pepper flakes. The texture was lovely. So basically I'm saying: TRY THIS recipe, as I feel it can be improved a lot, and it's a very nice way of serving zucchini -- potentially a 5 star recipe, with tweaks. Thanks, Polar Bear -- chefs can be devious with their recipes!!☺☺☺
Place all the ingredients for the fritter batter in a bowl and beat until smooth.
Cut the zucchini into even slives about 1/5 inch thick.
Dip the slives in the fritter batter and fry four-by-four in hot oil.
Drain on absorbent paper.
Season the fritters with fleur de sel.