French Wheat Bread (Bread Machine)
Evie3234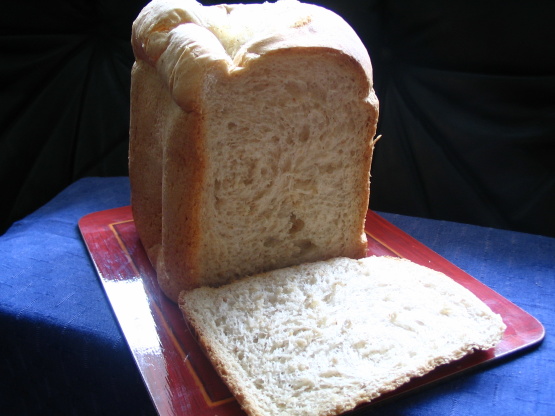 Ooh, la la! A simple recipe for simply delicious, wonderful bread! This versatile, slightly shorter, loaf goes with anything - beef, pasta, chicken, fish - but stands alone with a simple pat of butter, too. This one is bound to become a repeat visitor to your dinner table! From Electric Bread!

Very nice. Has a good crust with a soft fluffy center.It also smells wonderful. It does have a yeasty flavor, and good texture. I changed nothing about this recipe. I set the machine for a 1 1/2 lb loaf. Cheers!
Combine according to your manufacturer's directions.
Success Hints: To develop the crisp crust that French Bread is known for, use your French cycle.
If your machine doesn't have a French cycle, simply start your machine and let it go through the first knead, then stop and restart it from the beginning again.
This gives the bread extra kneading time and results in a crisp crust.
Because of the distinctive chewy French crust, it is recommended that this bread is served within 24 hours to avoid toughness.
This recipe can be made using the regular, rapid and delayed time bake cycles.