French Tomato Mustard Pie
Carianne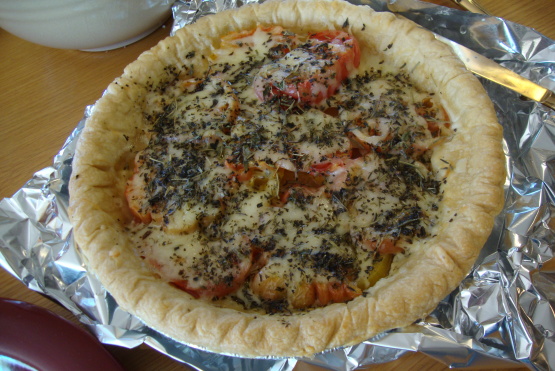 A wonderful and very French summer tart, even though all of that French mustard sounds suspicious, it changes taste when it is cooked. It serves a lot of people as a snack, or as a first course

Top Review by Lorac
Excellent! This dish gets one of my rare "To Die For" ratings ! DH ate half the pie himself. I made the recipe as directed using a pre-rolled (Pillsbury) pie crust, Dijon mustard and the Herbes De Provence sent to me from the chef as part of the "Salt and Pepper Shaker Swap". Kasha lives in Provence (France) and this wonderful dish makes me wish I did also. This recipe will be the star of my "book of special tricks". I served the pie with Broccoli with Lemon-Garlic Crumbs #71074. Thanks Kasha for this very special recipe.
Preheat oven to 375°.
Grease tart pan or pie pan and put in crust.
Spread bottom of crust with mustard, sprinkle with half the cheese, cover with tomato slices.
Sprinkle on the rest of the cheese.
Sprinkle with herbs and drizzle on olive oil.
Bake at 375° for about 30 minutes.
Serve warm or at room temperature.