French-Toasted Ham, Turkey and Cheese Sandwich
DeniseNC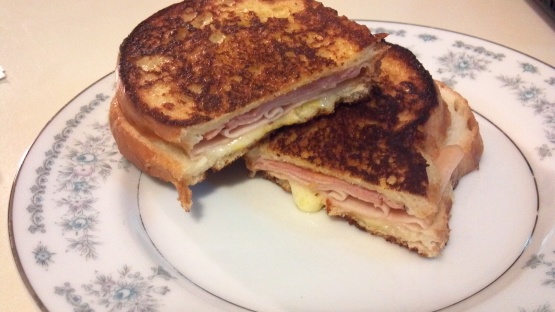 These are delicious! the following ingredients are for 6 sandwiches. Make certain to use a firm bread like Italian, pumpernickle or rye, the regular soft sliced sandwich bread will not hold up well to this.

This was not an extraordinary sandwich, but it was good. As good as any ham and cheese sandwich on toasted buttered bread would be. I think perhaps the egg to milk ratio was a little high on the milk, so my bread didnt get very "frenchy". I did use italian bread, so at least is crisped up and didnt get soggy. It was a good grilled cheese with ham sandwich. But I will mention, I did dip the sandwich in Red Raspberry preserves (as I have had on a Monte Cristo) and it was yummy. (Tried Apricot too but didnt like as much)
Spread the inside of each slice of bread with prepared mustard.
In a shallow dish combine the milk eggs, salt and pepper; whisk to combine thoroughly.
Make 6 sandwiches layering 1 slice ham, 1 slice turkey and 1 slice cheese (can use more more).
Lightly brush the outside of the sandwiches with melted butter.
Melt butter in a skillet over low heat.
Dip the sandwich/s in the milk/egg mixture, turning to coat each side.
Brown in the skillet.