3 Reviews
I make a time honored French toast that I don't dare change, but I just had to try the Rum Bananas posted on here....they were WONDERFUL!!! Next time I make them, I think I'm going to add a little brown sugar. THANKS for sharing!!!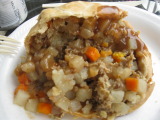 Wow, this was good! Really is like having dessert for breakfast. I'm thinking the orange rum bananas might even work over ice cream! Thanks Juenessa for sharing!

This is a dessert masquerading as breakfast!

French Toast With Rum Bananas