French Toast With Raspberry, Chocolate & Cream Cheese
Rita1652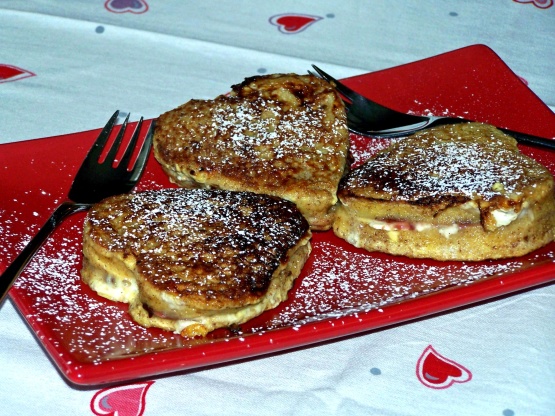 Heart shaped French toast for two. Filled with Tangy, Sweet Raspberry Jam; Warmth of Almond extract; and the Richness of Cream Cheese and Chocolate. Served on one plate with 2 forks to share with you loved one. These are filling! Bread is your choice I did use whole wheat.

I used smucker's sugar free strawberry jelly, sara lee brand 'Texas Toast' and I left out the chocolate chips and it was still wonderfully delicious - my husband and our daughter ate it up! The heart shapes were a hit - Great recipe!
With a heart shape cookie cutter cut 6 slices of bread.
Spread 1 tablespoon of cheese on 3 of the slices. Sprinkle on the cheese 1/3 of the chips on each pressing in lightly.
Spread 1 teaspoon raspberry jam on each of the other 3 slices bread. Top these on to the cream cheese halves, pressing together to adhere.
Mix eggs, milk, extracts, salt, and cinnamon together. Place the sandwiches into the egg mixture and flipping till all is absorbed.
In a hot pan heat butter and oil. Fry toast till golden brown and flip to finish browning other side.
Continue cooking stove top or in a 350 degree oven till desired doneness.
Top with sugar, syrup, and or fresh berries.