French Toast With Fresh Strawberry Syrup
Boomette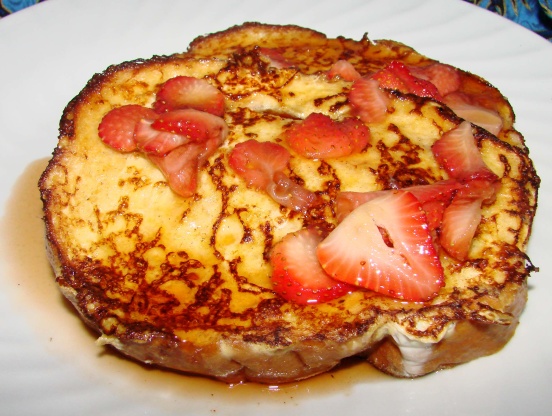 I just came up with this recipe as my husband and son were hungry for a new breakfast.

I always do this...think I know better than a recipe, when in fact I don't. I skipped the brown sugar in the syrup and though it was still tasty, it was very lightly sweetened and quite watery. So learn from me and don't skip it! I added it and it was fantastic- syrup was lightly pink and syrupy. Great recipe, so nice to try something different!
Whisk together the eggs, yogurt, and vanilla.
Heat a small amount of butter in a frying pan.
Dip each piece of bread into the egg mixture and fry on each side for about 2 minutes or until the egg is fully cooked.
In the meantime, place brown sugar, then syrup into a small frying pan or sauce pan and heat on low heat. Add the strawberries and just cook enough to warm the strawberries.
Serve the french toast with strawberry syrup on top.