French Toast with Apple Sizzle (Foodfit website)
Bergy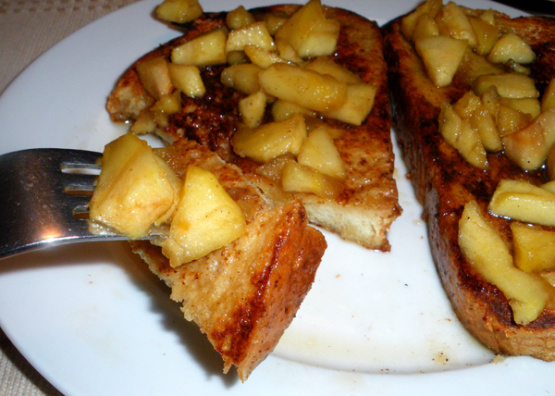 This is from the Foodfit website. I haven't tried it but wanted to see what the nutritional facts REALLY are, i think they might be a little ahead of themselves with the nutritional facts. I will be trying this recipe anyway though, one reviewer said," It was like eating warm apple pie, I will definately try it again." ...hope its as good as she said it was!!

This was special! For those of you poor souls who have just been topping your French toast with maple syrup or sugar, you have got to try it with apple sizzle! This stuff is really yummy! I made the French toast with leftover challah, which just happens to be the perfect bread for French toast. I didn't add the sugar when making the French toast, but figured that if I'm already using butter and maple syrup, why go with skim milk, and used half and half. This is a great breakfast for those who really want to spoil themselves!
Prepare the apple sizzle: In a small skillet, melt the butter over medium heat.
Add the fruit and cook until it begins to soften slightly, about 2 to 3 minutes.
Add the maple syrup and nutmeg.
Bring to a boil, set aside and keep warm.
For the French toast: Whisk together the eggs, milk, sugar, cinnamon, nutmeg and vanilla until thoroughly mixed.
(This can be done ahead and refrigerated overnight.) Spray a griddle or large frying pan with non-stick spray and heat over medium-high heat.
Soak the bread slices in the egg mixture until moistened.
Place the soaked slices on the griddle.
Discard any excess egg mixture.
When the bottoms are golden brown, flip with a spatula and brown the other side.
Serve the French toast topped with the apple sizzle.