French Toast Sticks (oamc)
Leslie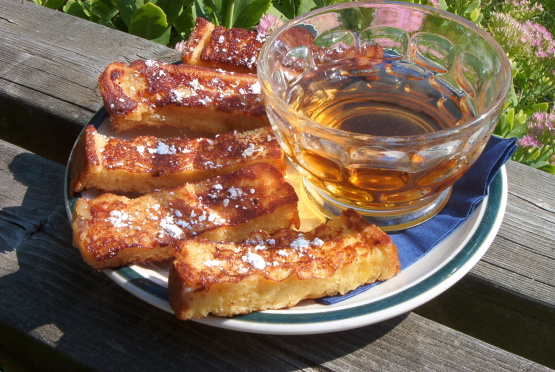 Keep these in the freezer for those busy morning!

My husband requested french toast sticks so I decided to try this recipe. It was delicious. I found them to be just a tad too sweet but everyone else thought they were perfect; they definitely don't need any syrup for dipping though! I made them as directed, but the egg mixture was only enough for 6 slices of bread (I used Arnold white sandwich bread, and very lightly battered the strips). They didn't stick at all on my lightly buttered stove top griddle, which was nice. My husband was looking for a crispier stick, so after they were done I put them on a cookie sheet and baked them at 350 for a little less than 10 minutes. They were exactly what he wanted! We will be making these again. Thanks!
In a shallow dish, beat together the eggs, sugar, milk, maple syrup, brown sugar, cinnamon, and nutmeg with a fork until well blended.
Dip each bread strip into the egg mixture, coating completely.
In a large skillet, melt 1 tablespoon butter over medium heat.
Cook the bread strips a few at a time for 2 to 3 minutes per side, or until golden, adding more butter as needed.
Serve immediately or cool completely, flash freeze on cookie sheet, then store in a labeled freezer bag.
To serve: reheat in the oven, toaster oven, or microwave until heated through.