Bayhill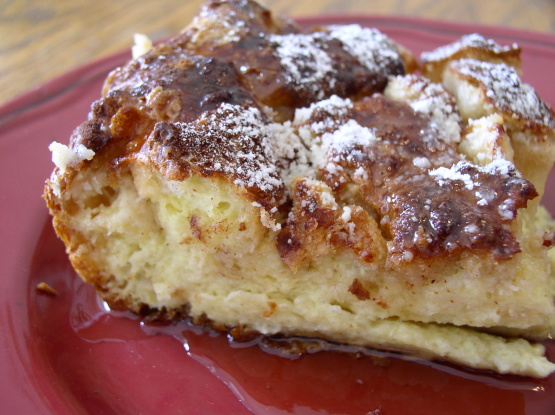 My good friend gave me this recipe when I was searching for something special to make for a brunch. It is a different take on regular french toast - it needs to be refrigerated overnight, but really frees up your morning so you aren't standing over a griddle missing all the fun!

Top Review by Shirl
I scaled this down to one souffle by using 3/4 of the recipe, that worked well. I put it into a foil disposable tray as I was going to be traveling with it. Another plus as that worked out well too. We showed up at our destination with the oven already primed, popped this in the oven. Worried that cooking in an unknown oven with an unkown reipe could be ruin for breakfast. But, no worries this cooked a full hour and came out beautiful, let set about 5 minutes to let everything firm up. Served with sugar free syrup instead of powdered sugar, also using the sugar free syrup when making recipe and this all turned out wonderfully well. A very nice option to french toast, instead of standing and turning and turning all a person does is pop this in the oven. I will probably make this style of breakfast again, but if using this recipe I will experiment with adding blueberries or something to put just another yummy flavor in there and also adding color. This was a good use of some stale sourdough bread that I had to use up, put nobody knew :) Also, just an idea, this may be transferable to a large muffin tin for individual servings or a buffet/potluck. Thank you howmanybites for posting a very easy to make, take, bake, serve and eat recipe.
Butter 2 7x11 baking dishes, fill half full with bread cubes.
In a small bowl mix softened butter, cream cheese, and syrup.
Spoon mixture over bread cubes and distribute evenly.
In a large bowl beat eggs, half and half, and vanilla.
Pour egg mixture over bread, making sure all bread cubes are moistened.
Dust with cinnamon, cover, and store overnight in refrigerator.
In the morning, bake for 55-60 minutes in a 350°F oven.
Dust with powdered sugar.
Serve with fruit, maple syrup, and crushed walnuts to sprinkle on top.