Prep 10 mins
Cook 20 mins
These muffins are delicious. I love it for breakfast and for dessert. I think you will enjoy it too.
Directions
Muffins: Combine all muffin ingredients.
Mix thoroughly.
Fill lining 1/2 full.
Bake at 400°F for 20 minutes.
Topping: Combine cinnamon and topping sugar in one bowl.
Combine vanilla and topping butter in another bowl.
Remove muffins from pan.
Dip in butter and vanilla combination, then roll in sugar and cinnamon.
Most Helpful
Indeed these muffins were delicious. They were sweet, but not overly and went nicely with the rest of our breakfast.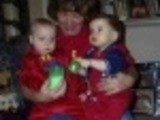 These were pretty good! I don't think there are any issues with the recipe. ForRealBarbie, maybe you used baking SODA and not baking POWDER? It yields a very different flavor and interacts differently with the ingredients...I know I mixed up once making biscuits. Yuck.
This recipe could be great.. but it has Wayyyy too much Baking Powder! They were Awful! Left the worst taste in your mouth!
With only having 1 1/4 cup of flour it truly should only have called for 1/2 teaspoon of Baking Powder. For every 1 cup of flour there should be 1/2 teaspoon of baking powder. I will re-bake these using only 1/2 teaspoon of baking powder and post my results! =]