French Toast from Alton Brown
BarbryT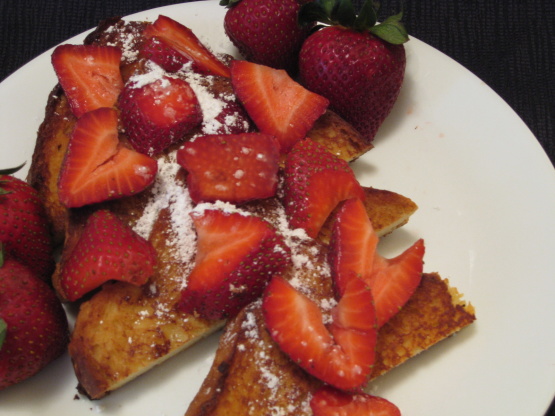 Alton Brown had a great episode on toast, and part of it featured French Toast*. This is our favorite french toast! For a healthier alternative, replace some of the butter with olive oil. You could also use whole milk in place of the half-and-half, though Alton would not approve. *http://www.foodnetwork.com/recipes/alton-brown/french-toast-recipe/index.html

i've been meaning to write this review for a while... My husband surprised me with this for mother's day. I came home from a half marathon training run to a spread of this with eggs, bacon, fresh strawberries, and mimosas. It was the most delicious breakfast I've ever had! There's a little extra prep time (from what my husband said) with this french toast recipe, but the final product was so worth it! French toast used to be like pizza for me; any french toast was good french toast, but this was OUT OF THIS WORLD YUMMY! I don't think I'll ever be able to eat sub-par french toast again.
1

cup half-and-half

3

large eggs

2

tablespoons honey, warmed in microwave for 20 seconds
1⁄4 teaspoon salt

8

slices bread (1/2 inch, day-old country loaf, brioche or challah)

4

tablespoons butter
In medium size mixing bowl, whisk together the half-and-half, eggs, honey, and salt. You may do this the night before. When ready to cook, pour custard mixture into a pie pan and set aside.
Preheat oven to 375 degrees F.
Dip bread into mixture, allow to soak for 30 seconds on each side, and then remove to a cooling rack that is sitting in a sheet pan, and allow to sit for 1 to 2 minutes.
Over medium-low heat, melt 1 tablespoon of butter in a 10-inch nonstick saute pan.
Place 2 slices of bread at a time into the pan and cook until golden brown, approximately 2 to 3 minutes per side.
Remove from pan and place in oven on rack for 5 minutes.
Repeat with all 8 slices. Serve immediately with maple syrup, whipped cream or fruit.