ImPat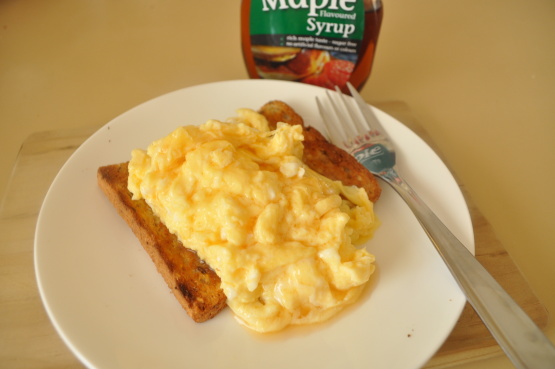 I thought of the concept weeks ago, but tried it out for the first time this morning. It was good. I used only 1/4 tsp vanilla, but I could barely distinguish it, so I recommend using a tad more if you prefer bold flavors like myself. Can be easily doubled, tripled, etc. And experiement with extracts. I'm sure vegans (or non-ovos) can use tofu.

Absolutly Delicious. I have a new favorite Breakfast. It might enhance it a little more with a slice of Yves Vegetarian Canadian Bacon. Great Recipe.
Whisk all ingredients together except syrup and toast.
Pour mixture in a preheated skillet and prepare eggs to your preference (omelette-syle, etc. I scramble with a fork).
Heat up syrup in a microwave.
Place cooked egg on toast.
Pour on syrup and sprinkle on some more cinnamon and/or sweetener if desired Eat& Enjoy!