French Toast Custard Casserole for 1
Annacia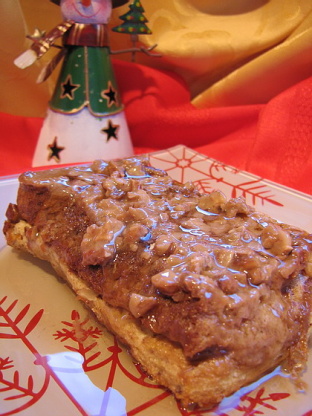 This recipe caught my eye as another great use for _aging_ bread and because it's scaled for 1 serving. A toaster oven would be perfect for baking this little casserole.

Oh Yumm, I made this with 100% whole wheat, egg whites and No Sugar Added Maple flavored syrup, I skipped the butter. The flavor is oh so good but I found it to be on the dry side when it was plated so I just added a bit more syrup. I wouldn't have thought of adding milk!. Very easy and quick to put together and at 40 mins it's nice to pop it in the oven when you start dinner and have a very good dessert when your finished eating. Thanks Susie!
cooking spray
1⁄4 cup egg substitute (or use 1 egg)

2

tablespoons nonfat milk

2

slices day-old whole grain bread (denser breads are your best bet)

1

tablespoon chopped pecans
1⁄3 cup maple-flavored syrup
1 1⁄2 teaspoons butter
Preheat oven to 350°F.
Lightly coat the interior of 1 oven-proof bowl with cooking spray.(try a soup bowl with a handle or any baking dish that is about 4" across and 2" deep).
Trim bread slices to a shape and size that will fit the bowl.
In another larger bowl, whisk egg and milk, then place bread slices in egg mixture until liquid is absorbed.
Combine nuts and syrup in the bottom of the ovenproof bowl, and dot the surface with the butter.
Place the soaked bread slices on top---they should not reach past the lip of the bowl.
Place bowl on a baking sheet to prevent drips, and place in the preheated oven.
Bake for 30 to 35 minutes, until top is lightly browned and center is firm.
Remove from oven and allow to set for about 10 minutes.
Invert bowl onto a plate, remove bowl and serve.